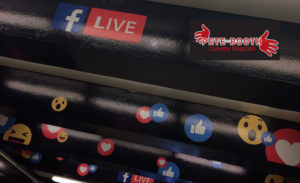 Let me give you a little tip to make your event extra-special. Facebook live. You may have seen it before – the little notification that pops up saying so and so is live and you get to watch them streaming live in the moment and you can even ask questions right there and then that they can answer right there then.
Facebook Live is a brilliant, exciting new medium and Facebook are really pushing it right now which means they will have priority over other forms of media and the best part is it is perfect for showcasing your event.
Make sure you have the organiser of the event before-hand showing people around, giving them a little tour of your conference and exhibition and of course most importantly make sure you get lots of great video of the conference awards night or dinner in action. Make sure you get video of the speeches, the awards and of course the entertainment. People really enjoying themselves, having fun and having a great time. It'll bump up the excitement for your event hugely.