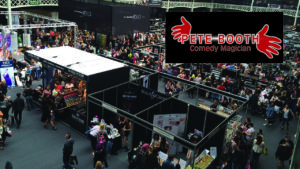 It's time for some James bond-style technology to help out your event.
Suppose you're holding a trade show. There's people wandering around. They come towards your booth. Then you have to start the questioning process.
"Hello, what's your name? What kind of thing are you looking for?" etc etc.
What if you had all of that information by the time they got to your booth?
What if you had to ask no questions and you could get straight to talking about what they want?
Well it is possible and it's all contained in a wristband.
A company called Boomset allows guests to enter all the information about themselves and what they're looking for when registering. This information is then stored in the wristband they walk around the trade show with. Then as they approach a booth you can see all the info pop up on your screen so you can start calculating exactly what you think would be good for them.
The online world's ability to target products directly to the consumer's interests has made it offline and into the real world.