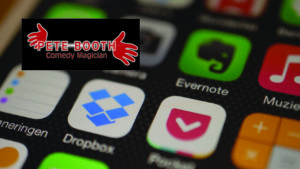 Let me tell you about the best way to keep your guests constantly updated about what's happening at your event: an app!
I'm sure you've already put together a website for your event, maybe a Facebook page. Maybe you've even ventured out into the world of Twitter and hashtags. Maybe Instagram. But have you
considered putting together an app specifically for your event?
An app has all the features of a website and so much more.
It can create schedules for your guests so they can actually put into the app what they want to see be provided with a schedule so they won't miss out on anything.
It can provide interviews, bios, podcasts, streaming video and best of all it keeps your event at the top of their minds.
Let me explain how this works. How many times do do you look at your phone during the day? Dozens and dozens of times. So every time someone takes out their phone and looks
at it, maybe to check email or check Facebook, they will be looking at the logo of your event! It will be sitting there on their screen as an app so they will never forget your event.
Plus an app can keep people updated like no other platform. If you send someone an email about an update to your event it may be a while before they read it. But as long as your guests accept push notifications on the app when they download it, then every time you update the app, every time you have news you want to share with your guests, it will immediately pop up on their phone and I'm sure, as you know, when you hear that little ding and you get a push notification you immediately take out your phone and check what it is.
People check push notifications from apps more than any other form of notification so it really is worth investing in an app for your event. It will create top of mind awareness for your event, get people excited and deliver up to date information by the second of what's going on at your event.
Pete